There's an universal joke that men seem to have a problem choosing the right sandals or wearing them in ridiculous manners (i.e. with socks). What is it with men and sandals?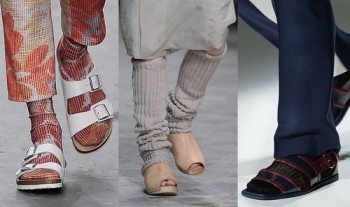 For a lot of people, men's sandals is a two word obscenity and conjures up images of a man in cargo shorts, a beige hat, white socks and beige sandals.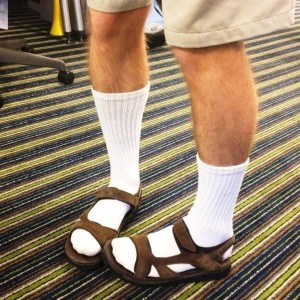 However, this certainly doesn't have to be the case. It's time to make this image a thing of the past, never to be seen or thought of again.
On this quest to end the misuse of men's sandals, I decided to prove there are good sandals for men out there which are fashionable, stylish and comfortable; you just have to know where to look.
Men like airing out their feet, it's just one those things. Feet get immensely hot, sweaty and smelly wrapped up in socks and leather shoes all day and summer is the only time when our toes can experience the elements and get a good blast of vitamin D. Sandals are essential wear for men during the summer months so it's important to get the style right.
After much searching through shoe shops, I found men's sandals come in one of two forms:
fashionable, bad quality and uncomfortable or

good quality, comfortable and ugly.
Getting the combination right of fashionable, good quality AND comfortable is difficult.
As a result, I chose to turn to the internet for inspiration as there's a lot more variety in the virtual world. After looking for a while, hunting with my three criteria in mind, I came across an online shop (which also has a physical shop) called John Martin Shoes. This shop has a great range of men's sandals that fit all of my criteria.
Here are a few that really caught my eye:
Reiker Denim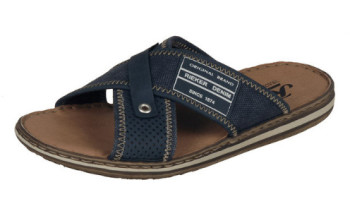 These ones are from the brand Reiker. Perfectly designed for the beach, days in the park and exploring foreign cities, this cool pair are a must have. The style and design is very surfer-esque and I think these are going to be a big hit this summer.
These classic brown leather sandals are a Clarks must-have for all men who are looking for the perfect sandals to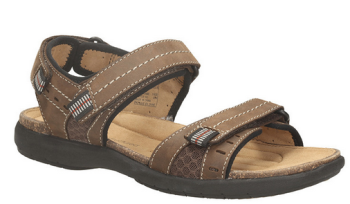 pull them through all these beautiful summer days. Both the style and design of these sandals allow them to be comfortable and stylish.
A great point about these sandals is they're so versatile and would be perfect to take away on your summer holiday as they go with any outfit.
Another great pair of sandals from Clarks with these open toe mule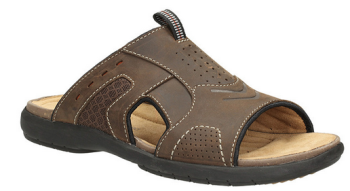 sandals in brown leather. These are great for casual strolls round the block or any walks along the beach on your summer holiday. Comfort is also a bonus with these sandals as the cutouts allow extra breathing space and the high quality leather means that they are both comfortable and durable.
---
I have a theory on why men wear socks with sandals.  If their feet look like mine with crusty, dry heels; razor sharp toenails and ashy feet they are doing a public service. Unless you're a zombie from The Walking Dead – no one wants to see that!  Personally, I don't wear anything with open toes yet I still want to be appear fashionable so I wear fisherman sandals.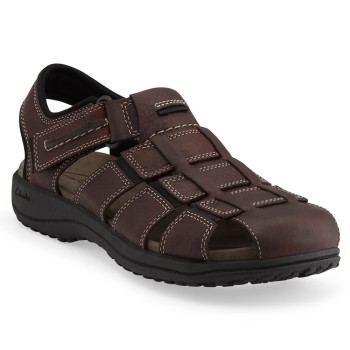 If you wear sandals in the words of James Brown, "Please, Please, Please" get a pedicure. 😎