My 3.5-year old son loves these sneakers and doesn't want to take them off once they're on his feet. There are 11 different light modes you can change with a button switch/charger on the inside top of the shoe (seven different colors and four color-changing/flashing sequences).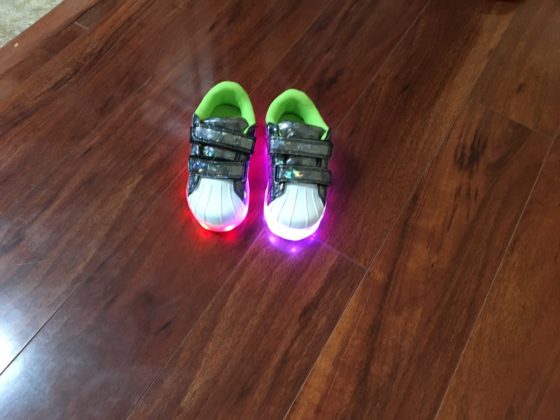 My son likes the changing color sequences the most. He was able to change the different modes by himself with the button inside the show once I showed him.
While these sneakers look great during the day, I think it's best to wear them at night outside. I would be wary about wearing them in the short burst, flashing light mode as it may be harmful to those with extreme light sensitivities.
I think these shoes are best for outdoor evening and night events, such as watching fireworks on the Fourth of July or during summer barbecues. These shoes are also excellent night safety shoes for those who walk or run outside in the dark and want drivers to see them.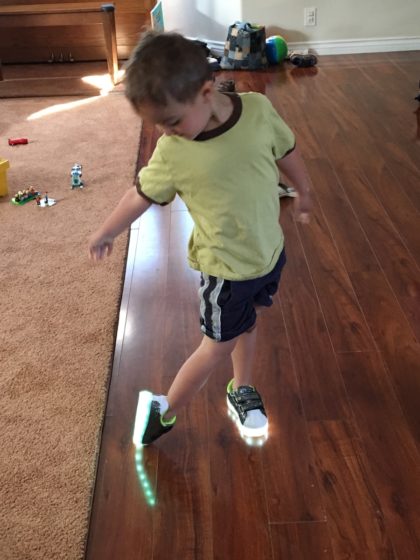 Be aware if your child is wearing these shoes, other kids will invariably want to try them on too! They are different from many light-up shoes I grew up with in the 90s because the light stays on continuously.
Most of the other shoes I have seen only light up when the shoe hits the ground. These shoes should be charged for at least four hours prior to use.
They glow red on the sides or bottom when charging and stop glowing once they are completely charged. Three to four hours of charge will supply six to eight hours of light. 
In addition to selling, LED shoes, Neon Sneaker also sells adult shoes (men's and women's), jewelry, accessories, shirts, and socks. Their jewelry, shirts and socks seem to be geared toward party goers.
Price
The shoes cost $49.97 when ordered through the Neon Sneaker website. Shipping is free (for orders over $45).
Returns are also free within 14 days of receiving the shoes.
Product Pictures
Screenshot from the website: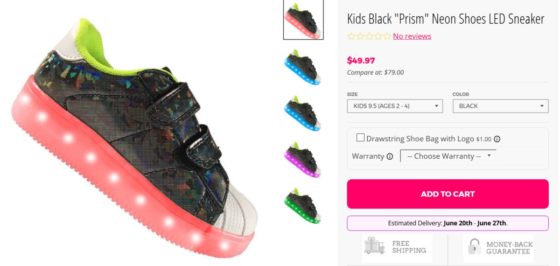 Product Description
From the website:
  ✓ Super comfortable and classic style
  ✓ They light up in 7 different colors and 4 color sequences 
  ✓ A full charge takes 3 hours and the lights last 6 – 8 hours
  ✓ Even when not lit, they look amazing 
  ✓ They fit true to size and you can exchange them if they don't fit
  ✓ They come with a USB charger to charge both at the same time 
  ✓ The battery is in the sole, so the shoes are water resistant 
  ✓ We use high-quality LED's that shine brighter and last longer than others 
  ✓ They look incredible on the dance floor, at the mall and definitely at festivals
These ultra-cool shoes look amazing and light up in over seven colors. They're also water-resistant!
You can set it to one color or multi-light with the click of a button located inside the shoes. They are rechargeable through USB and last about six hours on full charge.
Buyer Description
These shoes are excellent for social gatherings (especially in the evenings) and for walker/jogger safety at night (since they are very noticeable). They are great for active kids who like their shoes to mirror their high levels of energy.
I think the shoes are durable and are also an appealing design, even without the lights on.
Negatives
I think these shoes might be a little too stimulating for some kids. As stated above, I do worry the intense, short bursts of light in one of the color changing sequences in the shoe could be harmful to those with extreme light sensitivities.
How to Buy
You can purchase these shoes, and other varieties, from the Neon Sneaker website, or the Neon Sneaker Facebook site.
Contents
The LED sneakers come in a shoe box with a USB charger that is split so that both shoes can be charged simultaneously. The shipment also came with a $10 coupon for another purchase and instructions for how to charge the shoes.
What Others Say
Unfortunately, there are no reviews on the Neon Sneaker website, but there are 20,980 "likes" on the Neon Sneaker Facebook page.
Neon Sneaker didn't receive favorable reviews on this Trust Pilot website. The reviewers were mainly concerned about the quality and durability of the shoes, especially for children.
Be sure to enter the Neon Sneaker giveaway. Win two pairs of shoes – one for you and one for your child. Also for the duration of the giveaway all Support for Stepdads readers will receive a 10% discount at checkout. Use coupon code sfsShoe.