Moving houses is an overwhelming task in itself.
But when you're merging two families into one household, you're not only dealing with space and redesigning and decorating issues, you also have to consider the security and happiness of the all kids.
You're moving your joined families into a shared space where you'll have to figure out how to make it feel comfortable and familiar for everyone. To help you ease your family through the transition smoothly, it pays to think ahead on vital elements of the home that can do with change and that can remain the same.
Talk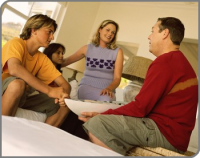 Have a frank discussion with your family about what's happening and what the proposed plans are. Explain you're doing the best job you can to make everybody feel safe, happy, and comfortable. Ask your kids to join in the discussion by telling you what their hopes and fears are, then address them.
Update the Bedrooms
The bedroom is typically the one room where private thoughts and feelings are vulnerable and exposed. It needs to be a place of comfort, security, and enjoyment.
You can decorate with new layouts, painted walls and new decor to get a fresh start, but incorporating familiar elements can help tone down on the changes. Use blankets passed down from Grandma, haul in your daughter's hope chest and build a display case for your son's autographed baseball mitt and ball.
Additionally, to help the kids get excited and feel a sense of security, go over floor plans with them if it's possible for them to have a space of their own. Be involved in helping them decorate it to their own personal style and tastes. This can be a great time to discuss shelving or display cases for some of their treasured items they want to keep near.
Redo the Family Room Layout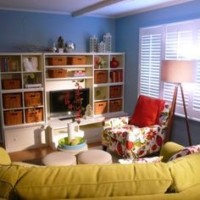 The family room is a big gathering spot, so make sure everybody will have a place to hang out. The room needs to reflect the personalities of everyone in the household as a whole. This can be tricky.
For example, you might need to get rid of the China cabinet to make room for an additional sofa. It may even be as simple as rearranging your existing furniture. Don't forget the walls; have the kids help you pick out family photos to frame and hang on the wall.
Family Photo Time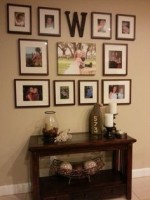 Make a show of new family pictures or framed, old photographs. Dedicate an entire wall space for this project in the hallways, family rooms and dining rooms. 
With all the other changes happening in the home, the photographs represent a constant – the people in the home. This helps to bring a sense of familiarity among the new.
Decor Time: Create a New Identity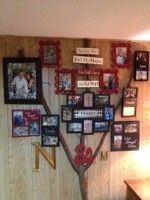 This can be an exciting task and symbolic of starting your joined lives together. Paint walls new colors to bring a fresh air to the home. Remember to respect each others tastes.
Compromise where you can find common ground. Going bold and bright might be a little too much, but accenting a wall for a bit of spark would be perfect.
If purchasing new furniture isn't in the budget, reupholster old furniture to give it new appeal. You'll be amazed at how installing new light fixtures can completely change the room.
If needed, appropriately child-proof the home to cater to little, sticky and mischievous fingers. These elements will bring a much-needed fresh charge to the atmosphere.
Put the Old on Display
Custom shelving, refurnished bookshelves and shadow-box coffee tables work perfect as display units. Photo albums, treasured artifacts, antiques and heirlooms invoke memories and experiences that should be shared among family.
Even that not-so-cute handmade coffee table that your other-half's great-grandfather made is worth keeping to be put out for display. You're merging your lives together to create a new space.
Although, it's not going to be exactly like your old space, be open-minded to the fresh and different home atmosphere you're creating.
Check In
Don't forget to check in with everybody. Keep the lines of communication open. Make sure the kids are happy and getting along.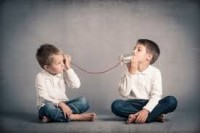 Making space for those old keepsakes, redesigning a more family-friendly living room and putting the new family on display will help everyone to move forward into the new home feeling secure despite the changes and excited for the future as a blended family.