Parenting Magazine posts a yearly holiday shopping guide with the best holiday gifts for kids. This year metal detectors are on the "10 Best Learning Gifts for Kids." Many parents are on the hunt for gifts that are fun and encourage learning. After polling both kids and parents, metal detectors came out as a favorite among educational gifts.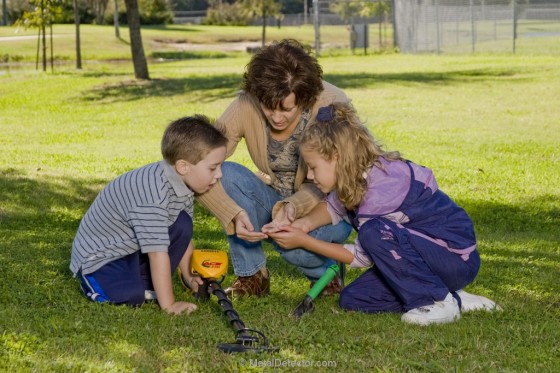 Using a metal detector to hunt for hidden treasure allows kids to use their imagination and learn about their environment. Hands-on learning is usually best because it offers actual experience instead of just reading a book about a specific topic.
Metal Detectors Can Make Kids Smart!
There's no better lesson in geology (a science that studies rocks, layers of soil, etc.) than taking a metal detector into the field, woods, grass, beach or water. As a child or teen gets accustomed to their metal detector, they'll soon understand the principles behind a metal detectors operation.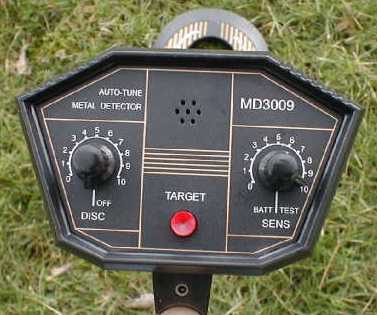 Digging for metal treasure also allows kids to see the different types of rocks and soil in their region and learn about the terrain. Common treasures found with a metal detector include old coins, historical relics, antique toys and jewelry. There is much to be learned about past generations by the artifacts they left behind.
Where to Begin with a Metal Detector?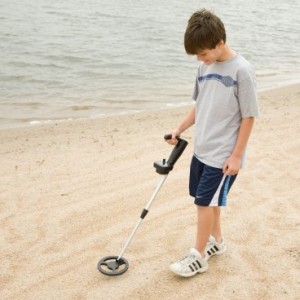 Kids can use a metal detector anywhere: in their own neighborhood or backyard, local parks, ball fields, schools or at the beach. Metal detector hobbyists talk a lot about beginner's luck and how lucky kids seem to be. My Metal Detector Finds at MetalDetector.com invites users to submit their most amazing finds. Then, readers vote on the best discoveries.
One exciting story, "Vinnie's First Nugget," talks about a 12-year old who used his dad's brand new metal detector and struck gold on his first time out! His dad said, "I had to about fight him to get the detector away from him to use myself.  I am a bit slower than him in learning the new quirks of getting used to a different/new detector. I found another quarter ounce nugget a few yards away from Vinnie's finds."
If a metal detector is on your son or daughter's wish list, we've listed our top picks below.
The Best 7 Metal Detectors For Children and Young Adults
Bounty Hunter Junior Treasure Tracker Metal Detector ($69.95)
Bounty Hunter VLF 2.1 Metal Detector ($79.99)
Bounty Hunter Legacy 1500 Metal Detector ($139.99)
Fisher F2 Metal Detector ($199)
Garrett Ace 350 Metal Detector ($297.45)
Bounty Hunter Platinum Metal Detector ($299.95)
Garrett AT Pro Metal Detector ($594.95)
A Fun New Hobby the Entire Family can Enjoy!
Introduce your kids to an amazing hobby this holiday season. This is one gift that won't sit in its box – kids will want to use it every day! For all of the basics you need to learn when getting started with a metal detector, be sure to do your research online. A great article on kids metal detectors to checkout is the article entitled "What's the Best Kids Detector" from Detector Electronics Corp.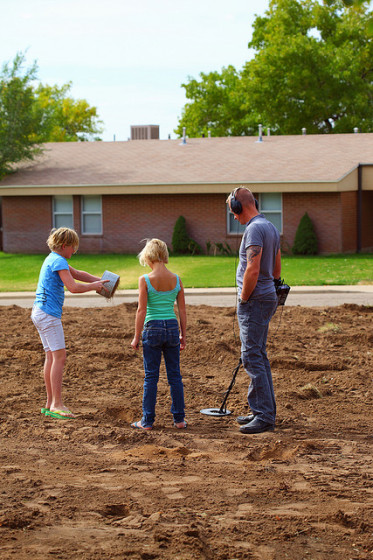 Remember, your junior treasure hunter will need a set of metal detector headphones like the Audiophone II, a digging tool or beach sifter, and a pouch to hold their finds. No matter which model you select, they are sure to have fun and you will have marked another item off your list!
The Author
Michael Bernzweig manages MetalDetector.com in Southborough, MA. He has written extensively on the subject of metal detecting since the mid-1980's. He has traveled worldwide in his pursuit of educating, exploring and advising others in the proper use of metal detectors. Outside of the business, he enjoys mentoring students, being involved in the community and spending time with his family.
Please rate this post using the Stars and Thumbs below.  Thank you.
Featured images:
 

License: Image author owned