As part of the "sandwich" generation, you may find yourself trying to care for your aging parents as well as your children. More seniors are desiring to live independently in their own homes for as long as possible.
This can cause adult children and other caregivers to worry about whether their loved one is safe, secure and properly taking care of their health and home.
In this technology-driven world, caring for your parents while you at work is easier than ever before with online services, home deliveries, wireless alert systems and mobile video calls.
Of course, nothing takes the place of face-to-face visits with your aging parents.
Consider these five options when you're on the go and need to provide a level of support to keep your loved ones safe and cared for at home.
Using Personal Alert Systems and Fall Detection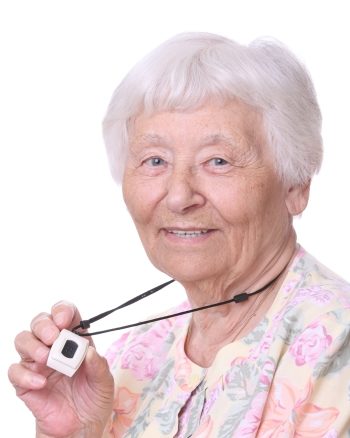 Personal alert systems are growing in popularity with the Baby Boomer generation. These alert systems usually feature an alert button you can wear as a pendant, wristband or belt clip.
The operation base is centrally located in your home for landline and wireless versions. Many companies also produce a mobile base your parents can take with them on an outing and use the GPS-enabled alert button if needed.
If your parent falls or has an emergency, they can press the alert button. The communication base will initiate a call to the company's emergency center.
The center will alert 9-1-1 and you of the emergency. Some alert buttons feature a fall detection that will automatically call for help when it senses your parent has suffered a fall.
Home motion sensors are relatively new, but they will alert you if your parent is unusually inactive or up in the middle of the night.
Installing Safety Device and Home Organization
Consider installing safety devices to help your parents manage everyday tasks safely. This may mean making home safety modifications on your own or hiring a company to install grab bars, railings, bathtub seats and wheelchair ramps.
Another home safety product worth mentioning is an anti-scald attachment to prevent burns from extremely hot water. You can install these devices on shower heads and sink faucets throughout their home to shut off the water when it reaches a specific temperature.
If your aging parents tend to collect a great deal of clutter, hiring an organizational senior service may help. The staff can sort, organize and label your parents' belongings making it easier for them find things they need and clear clutter from the floor to reduce risks of falls.
Coordinating Medical Appointments and Medication Reminders
You will want to keep close contact with your parents' doctors, specialists and pharmacists. You may want to use an app that will sync appointments and medication reminders to your smartphone as well as your parents' phones.
There are several available apps family members can share such as the Cozi Family Organizer that assigns a different color for each family member.
MyMedSchedule is another app that keeps tracks of medication regimens. The app sends a text message to the user's phone reminding them of what pills to take and when, as well as the dosage.
You can find several medication reminder apps in your app store.
Using Senior Concierge Services
Depending on your parents' needs and where they live, you can find concierge services for just about everything. They can order groceries online and have them home delivered or prepared for pickup.
They can order fast food or restaurant meals delivered to their front door. You can order these services either through your PC or mobile device.
Most companies feature easy-to-navigate websites and apps making ordering simple for your parents. Your parents can also hire local contractors through companies like Care.com for housecleaning or lawn care services.
Make sure you vet any contractors before hiring them to serve your family.
Socializing With Other Family Members and the Community
Living alone or only with a spouse can get lonely for seniors. Help your parents stay engaged and social through video calls with other family members through their computer or mobile device.
Many community centers and adult day centers offer senior programs that include activities, games, outings and social events. Your parents can also attend classes and workshops with other seniors in baking and cooking or arts and crafts.
Check with the center about complimentary transportation for seniors.
These five options can help your aging parents remain at home longer. There may come a time when they need targeted care and assistance with activities for daily living (ADLs) such as bathing, dressing, toileting and eating.
You can find local facilities that offer personalized community care allowing your parents the independence they crave while customizing a care plan to meet their physical and cognitive needs.
We are so busy growing up we forget our parents are growing old! We keep waiting for special occasions to show them our love.
However, one thing that time teaches you is to celebrate your loved ones while you can. Learn five ways to show your parents you care.