We are so busy growing up we forget our parents are growing old! We keep waiting for special occasions to show them our love. However, one thing that time teaches you is to celebrate your loved ones while you can. Love is best experienced when expressed.Moreover, every day is a special day when it comes to loved ones.  So, rather than waiting for the right day, let these gestures show your parents you care –
A Sumptuous Meal
The one place that moms can't seem to get out of is the kitchen. It is a place where you are sure to find her in. Being the provider of the family, she unfailingly ensures everyone in the family is fed. Give her a break one day by taking over the reins in the kitchen. Prepare a sumptuous meal for them to relish. If well cooked, your father will enjoy it as much as your mother. She will enjoy this thoughtful gesture, regardless of the taste!
A Relaxing Day at the Spa
Parents get so busy in their lives that taking care of themselves becomes the last thing on their mind. Gift them peace of mind and rejuvenation by planning a day at the spa for them.  A luxurious spa break for two will not only rejuvenate them physically and mentally,  but it will also give them time to bond. Specially chosen spa packages for them will give them an entire day away from the hustle bustle of life. Moreover, this gesture is one of the ideal ways to show you care about their well being.
A Trip Down the Memory Lane
As you start moving towards the dusk of life, memories become increasingly special. You realize that the only treasure you really have is just a collection of beautiful moments that you can fondly look back on. Once kids have flown the nest, parents often find themselves looking at the past nostalgically. Take time out of your life and be their companion on this trip down the memory lane. A scrapbook or a collage of photos is a good way to tell them they are never alone!
The Gift of Romance
Most couples find themselves short of time and don't realize when they stopped being husband and wife. They end up playing the roles of parents so well that they forget that their bond needs nourishing. Give them a chance to reconnect and restrengthen their bond. Plan a second honeymoon or even a short trip weekend trip will do. See your parents slip back into their youth by giving this gift of romance!
Time and Attention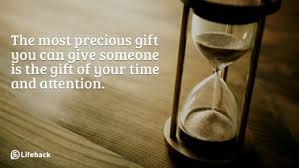 There cannot be a more special gift than giving someone your time and attention. Maybe you fall short of hours even when the clock strikes 12 and find yourself without any breathing space during the day. However, a weekend isn't too much to ask for people who played a huge role in getting you where you are. Take out time for them, pay attention to the happenings in their life. Listen when they share their stories. Try making sure that they don't miss out on their doctor appointments and health checkups. Not only will they feel really special, but it will make you feel nice too!
If you actually decide to do it, you will find that it isn't that difficult. Not only will find yourself being a better son or daughter, but will also set a great example for your kids. After all, at any age, the one thing that every one needs is love, isn't it?
Keiron Hogg runs a day spa in Perth. A complete family man, he stays in a joint family and loves the care and bonding that comes with it. He likes to write articles and discusses family issues on his blog.
Review Overview
Summary : Celebrate your parents while you still have them. Five thoughtful ways to show your parents you care.