Three Ways To Look Great Again
Just like most people, you might think post-pregnancy weight loss and fitness are only reserved for moms. But research shows a lot of dads actually gain weight and slack off on their exercise routines throughout the pregnancy of their wives. What's more, after the baby is born, priorities shift while both the level of stress and the amount of responsibility go up.
The Dad Bod
Have you ever heard of the term "Dad Bod?" Yes, it may be attractive for some and your wife may not mind your flabby belly at all.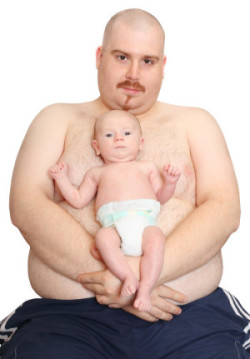 But if you are overweight, then there are other things to consider apart from your appearance — such as your health, strength and stamina, and overall well-being.
You will need all of these to attend to the needs of your wife and new baby as well as other children, if you have them.
Looking Your Best Again
Being a new dad doesn't mean you have to look haggard with saggy arms and a flabby tummy. It's very important to keep yourself in tip-top condition which will boost your self-confidence and positive energy too. With so many things to juggle, you will need to look your best again because it matters a lot and can greatly affect many things in your life.
How can you shed off the pounds after the pregnancy and childbirth of your spouse? How can you stay fit?
Here are three ways to do it while still being the best dad and husband you can possibly be:
• Burn Calories While Doing Daddy Duties
Perhaps you have tasks to do to help with taking care of the baby, such as preparing the bath water or cleaning and sterilizing the bottles. You can actually make the most of these duties for your own weight loss and fitness goals.
Rather than looking off into space while waiting for the shower to heat up or for the bottles to be sterilized, put in some exercise. Simple jogging in place, stretching routines, and lunges with dumbbells can make a difference.
In addition, why don't you volunteer to clean the house while your spouse is busy breastfeeding the baby? You may also want to walk or ride a bike when running errands in the neighborhood instead of taking the car. Through these options, you can definitely burn calories instead of letting them pile up.
• Detoxify And Live A Healthy Lifestyle
There's a huge tendency for dads to get stressed during this period, which might push you to choose the unhealthy lifestyle and not make an effort to pick out healthier options. However, you must strive to ignore the temptations.
You and your wife can make a pact to go into a detox in order to restore and revitalize your digestive systems. This is actually important in removing toxins that cause abnormal, unnecessary fats to accumulate in your body. It's essential in jump-starting your weight loss and fitness journey.
If you wish to find out more, you can visit one of the best providers of detox programs— RADWellnessCenter.com. It is well-known for using the all-natural approach that even comes with daily one-on-one coaching support.
• Regularly Walk with Your Wife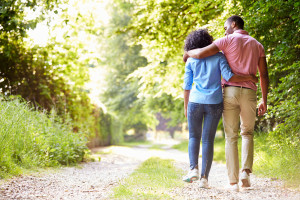 Surely your wife is also eager to go back to her pre-pregnancy weight the natural and healthy way. Why not take this opportunity to have some bonding time? When a new baby comes into your life, chances are you don't get to talk and spend time together as much.
Have regular walks around the neighborhood in the morning so that your baby can also get some sunshine while the two of you burn some calories and strengthen your relationship. After all, being parents can take its toll on you. Making sure you have a great relationship will help keep you together and also contribute to better rearing of children.
It might actually be impossible for you to get in some gym time, so it's best to adjust to the situation and simply insert exercise routines. If you have gym equipment at home, that would be awesome. And of course you can also make use of exercise videos. Just find ways and be creative!
During this time, there's a bigger tendency to just forget about it and give up completely. You may also brush off the added pounds as temporary and just save the weight loss and healthy lifestyle goals for later. The risk here is you may actually end up piling on more pounds that will be harder to shake off in the future. Hence, it's better to do it now. With the right knowledge and support, you can get through it.
Begin your weight loss journey by visiting www.radwellnesscenter.com and www.rad4u.com for more relevant information. To your success.