Anke Domaske watched her stepfather endure constant skin irritations during his cancer treatment.  She wanted to do something to help.  A German microbiology student, Anke understood many of the skin's negative reactions are caused by the conventional fabrics the skin is exposed to. 
Anke created a revolutionary textile whose primary ingredient is a most unusual source:  sour milk or casein, the main protein in milk. The fabric is called QMilch. The combination of the German word for milk (milch) with quality (Q).  QMilch looks and feels like silk and can be washed and cared for like cotton.  The manufacturing process uses a half gallon of water to produce 2 pounds of fabric. 
Compared to cotton, which uses over 2,500 gallons for every 2 pounds of material.  She used green technology to create fabric that was not only good for her stepfather's skin, but good for the environment.  Anke said it would take about 6 liters of milk to produce an entire dress, which costs about 150 euros ($199) to 200 euros.  Fortunately, for the cost, the clothes don't come with an expiration date – during the heating process, the molecules bind in such a way the protein won't decompose.

As if a silky, luxurious feeling and "tumble dry low" instructions weren't enough to recommend the milk material, QMilch is also good for your skin.  Anke points out the natural amino acids in casein are antibacterial and reduce signs of aging.   She also says the green technology supports healthy blood circulation and regulates the body's temperature.
Due to its antibacterial qualities, the milk fiber can also be used in medicine and makeup.  Even some auto companies have looked into using the fiber for car upholstery.  Anke Domaske was honored by Germany's Textile Research Association with an innovation award.  She's currently using the milk fabric in her own fashion line, Mademoiselle Chi Chi.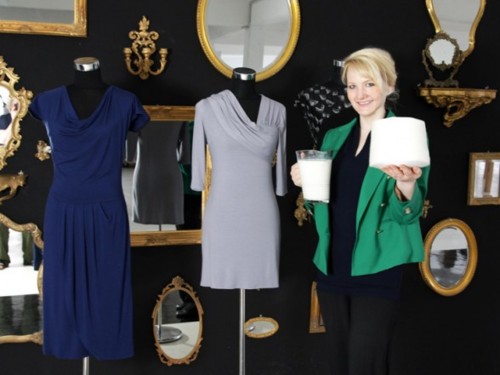 Because of Anke's compassion and relationship with her stepfather, we now have QMilch a product that benefits people and the environment.  Are you a stepfather to a stepdaughter?  Learn tips on how to develop a strong relationship with her by reading the post, "Tips for Stepfathers Raising Stepdaughters"