When you're planning your family vacation, forget about the concept "one size vacation fits all". There's no single magic formula that works for everybody.
Every family is different and unique. With uniqueness and differences come greatly varied desires and preferences.
Therefore, it's imperative to research and make careful plans on how to satisfy everyone's wishes so you can have your dream holiday and not a disaster adventure!
For parents aching for some time off but still trying to keep their sanity, here are some ideas on how to have a family vacation. A vacation that will provide fun for kids all ages (your toddlers, grade-schoolers, tweens and teens) and still have some much appreciated alone time.
Vacation Adventure with Babies and Toddlers
Babies and toddlers can be unpredictable and always a handful. For most parents, the idea of taking them on a vacation seems daunting, to say the least.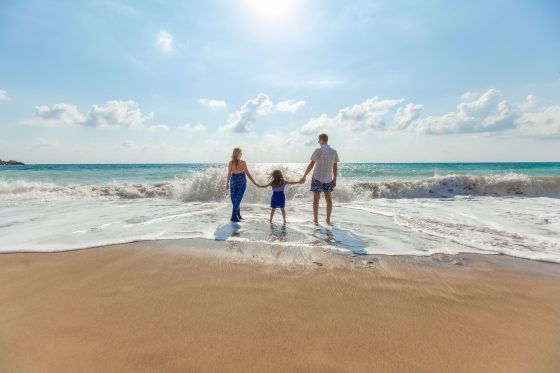 No worries, there are plenty of solutions even for the most high-maintenance kids. Surely everyone can benefit from a change of scenery.
Rent A Home
One practical idea is to rent a vacation home. The greatest benefit is you'll be able to store all the gear, have a full kitchen, a washer and dryer, and maybe even an additional guest room for a doting grandparent to come along and take the pressure off.
Some agencies even stock the house with toys and baby equipment, and arrange for experienced babysitters so you can get away for a couple of hours.
All-Inclusive
Another choice is to check into an All-Inclusive. These resorts include nearly everything: great restaurants, best décor and lots of activities on site, so you don't have to go a long way to provide fun content for your little ones, or yourself.
There are themed villages, water parks, play lounges and different programmes tailored in such a way that all ages can find something interesting. While the kids enjoy their fun, the parents can have their quiet dinner in an adult-only section.
Cruises
The final option can be to go on a cruise. A vacation at sea can work really well, especially if you take the grandparents as well.
There's an abundance of fun activities for all ages, opportunities to scatter around and gather back for meals. You only need to be sure they're equipped with baby seats and nurseries in evening hours.
Giving the adults a chance to get some off time and have fun before bedtime. Even if you didn't have enough time to plan in advance, there are plenty of last minute cruises offering excellent prices and packages for the whole family.
Vacationing with Grade School Kids
Older kids mean less fuss with the equipment, but it also means more action. Kids of this age need lots of activity and playtime with kids their age, so choose trips that include theme parks like Disney, mountain or beach resorts or easy adventure biking or hiking trips, where you can meet other families and join efforts.
Having multiple families involved can make it much easier to split the chores. While one family entertains all the kids and prepares meals, the dads, for example, can slip away and have their own fishing or hiking adventure.
Travelling with Tweens and Teens
This type of vacationing takes some careful planning and remembering to involve your older kids. The best idea is to plan the trip together and pick something that appeals to them as well.
It might be quite different from your ideas, but be open to their suggestions.
They might want to bring a friend and visit places like celebrity graves and notorious crimes sites. It just means you'll have more time for yourself.
Also, it means you'll have interesting things to talk about at dinner when you meet after a long and exciting day. Family vacations are all about making memories, so don't be afraid to think outside the box.
Whether it's an all-inclusive hotel or a vacation home with your little ones, adventure expeditions with your grade school kids or an urban adventure with your teens, make sure everyone gets their piece of the holiday cake and have fun!
Planning a family holiday/vacation trip usually takes a considerable amount of time planning the itinerary, accommodations and transportation. Unfortunately, many travelers don't consider travel insurance as a necessary part of their trip.
Learn why travel insurance should be at the top of your priority list when making travel arrangements.