Lightgliders is an app designed to teach and reinforce Christian values in children and teenagers. The app can be downloaded with a subscription for use on personal electronic devices (iPads, phones, tablets and laptops) and includes tutorials and games.
Within the app are "Sparks," which are comic book devotional videos in which characters from Lightgliders encourage reflection on a Biblical principle or scripture in addition to prayers.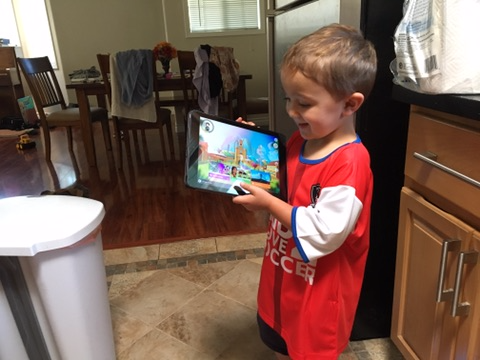 I think the app is designed for older kids who are above the age of 5. My son is 4 and didn't fully understand the purpose of the tutorials and games.
My family is Lutheran, and my son attends Sunday School. However, I found the lessons, videos and games to be extremely confusing for a first-time user.
I thought the app was trying a little too hard to make Christianity "cool."
While it's useful for teaching Biblical scriptures and lessons, I think the video lessons and games are much too forced, and I found them to be unappealing. For instance, one of the Lightgliders character's names is Nisha.
In her introduction, she talks about how everyone can "shine." She mentions how another character in Lightgliders is "good at rescuing Gliddles in the Yonders." What is a Gliddle and what are Yonders?
Why isn't there some explanation for this? Children can also play a game called "Gliddle Dodge" which is just a simple video game.
I'm not sure how this teaches or reinforces Christian values. Unless you know the storyline in depth, I think most users would find this extremely confusing.
Once you understand the storyline, I think the app could be handy for kids. The videos are very animated, and the characters are enthusiastic.
However, I believe this app is designed to be more for a niche audience. With your subscription, kids also have access to the Lightglider Academy online community for additional support and resources.
I also like the global perspective of the game; the characters are all from different countries like India, South Korea and Tanzania.
Price
Lightgliders offers a free trial for seven days. A monthly subscription costs $5.95/month for an individual and $17.95/month for a family. An annual subscription costs $44.95/year for an individual and $149.95/year for a family.
Product Pictures
Screen shots of characters from Lightgliders and a Gliddle game in Lightgliders Academy.
Product Description
From the website: https://www.lightgliders.com/parents-page
"Lightgliders is a Digital World of Christian Faith, Fun and Games!"
Lightgliders is a digital world of games, videos, and activities designed to encourage Biblical faith, positive values, and meaningful conversations among kids, families and faith communities. The app also provides access to a massively multiplayer online (MMO) computer game and community called Lightglider Academy.
Available on phones, tablets and computers, Lightgliders can be obtained by visiting www.lightgliders.com or by downloading the Lightgliders app on the Apple Store or Google Play.
Lightgliders is a Story that Teaches!
Lightgliders serves as a parable created to impart a biblical worldview and to help kids everywhere recognize they're uniquely made to shine! Every child gets to become a Lightglider and enter into the story.
Lightgliders have three primary goals – to RESPECT themselves and each other, to RESCUE the Gliddles from the Machines, and to RESTORE the land from the blight.
The overarching story and characters encourage an understanding of the Bible and teach the five values of a Lightglider:
Purpose,

Humility,

Confidence,

Hope, and

Love.
Buyer Description
The Lightgliders app is for parents and kids who are Christian or who are open to learning more about the Christian faith and want to learn more about it.
Negatives
The storyline for the Lightgliders video lessons seems to be extremely confusing and unnecessary. I don't see the point in trying to disguise Christianity in some alternate online world that is supposed to be appealing and relevant to kids and teenagers.
It probably wouldn't have worked for me when I was a teenager because the best way to learn about Christianity is to just go to church. My son was also bewildered.
One way to improve this app is to simplify it more and not create unnecessary creatures or alternate ideas.
How to Buy
You can purchase a Lightgliders subscription on the website: https://www.lightgliders.com.
Contents
The Lightgliders subscription includes:
Digital games available on phones, tablets, and computers

Access to the Lightglider Academy computer game and online community

Videos that teach biblical principles and encourage prayer

Regularly updated content

Downloadable lessons
What Others Say
There are a few reviews around the web. All are positive
http://fancythatblog.blogspot.in/2017/05/lightgliders-digital-world-of-christian.html
https://www.youtube.com/watch?v=xcfhNOFXsrE
http://www.southboundmom.com/2017/06/welcome-to-light-gliders-gaming-app-one.html
I received a free annual subscription in exchange for my objective review.
Enter for a chance to win a free subscription to Lightgliders by entering the Giveaway.