I received this costume set for my son three days ago and he's wanted to wear it every day since then. He likes to pretend he's fighting monsters with the sword and shield set.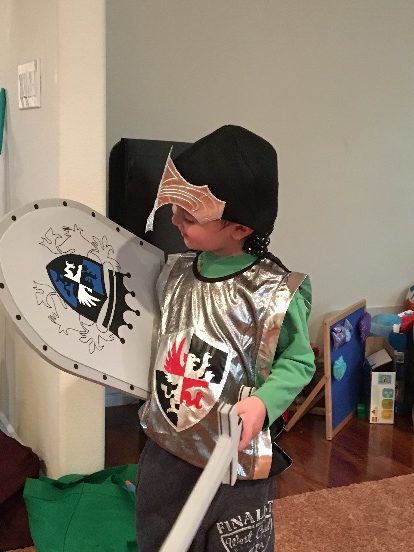 Both the knight vest and the helmet are lightweight and made of cloth which is perfect for active kids that don't like wearing regular helmets. My son doesn't like to wear helmets for long periods of time because his head gets sweaty, so the cloth helmet is much better.
The sword and shield are also both lightweight. The sword is made of foam and would probably not cause much damage.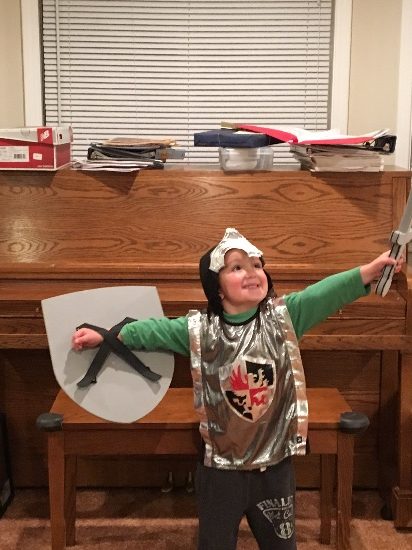 The shield is very easy to put on, with Velcro straps in the back.
I was extremely impressed not only with the quality and detail in the knight costume but also with the quality of all other costumes on the
Little Adventures website
, especially the princess costumes.
I also like how many of the costumes can easily be worn over regular clothes. You don't have to completely change their clothes and the kids can put the costumes on themselves. They also have costumes for dolls and adults.
Prices
The knight vest and helmet are $21.99. The sword and shield are $12.99.
Shipping is free if you order from the Little Adventures website.
Product Pictures
Knight Vest and Sword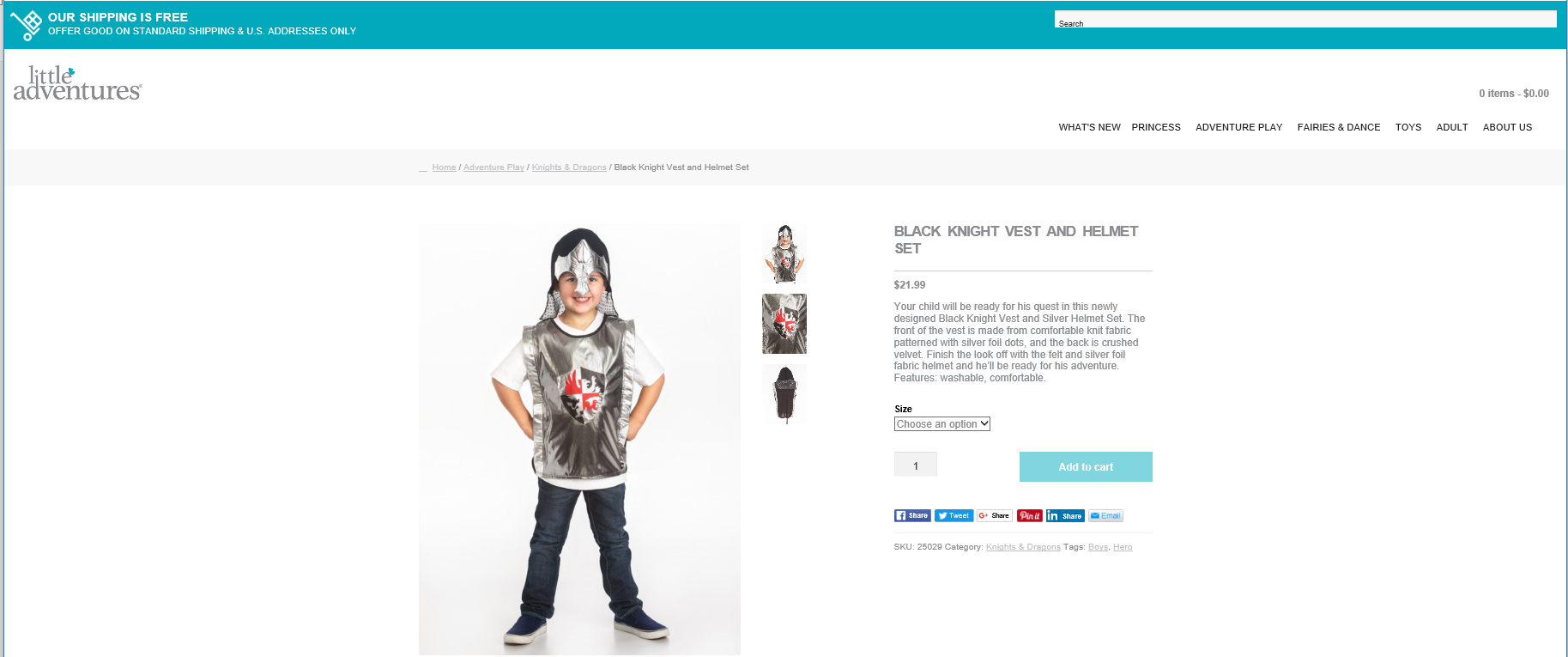 Sword and Shield

Product Description
For the vest and helmet, from the website:
"Your child will be ready for his quest in this newly designed Black Knight Vest and Silver Helmet Set. The front of the vest is made from comfortable knit fabric patterned with silver foil dots, and the back is crushed velvet. Finish the look off with the felt and silver foil fabric helmet and he'll be ready for his adventure. Features: washable, comfortable."
For the sword and shield, from the website:
"Dragons beware and maidens rejoice, your knight is on his way with his trusty sword and shield to aid him on his quest. The set is made from a high-quality dense foam that adds both safety and longevity. Adventures await! Features: High-quality dense foam construction. Safe for play; made to last."
My Description
This costume (and any other costumes from Little Adventures) are wonderful for kids who are interested in costume play and love to play pretend (which are 99% of kids). They also make great costumes for Halloween or other dress-up occasions. The Little Adventures website also sells adult and doll costumes.
Negatives
While most of the kids' costumes were very reasonably priced and under $30, I thought some of the costumes and accessories (such as the cloaks) were a bit overpriced. However, they seem to be very well-made and most likely will last a long time.
How to Buy
You may purchase costumes from the Little Adventures website or from stores like Walmart or Amazon.
Contents
The contents of the package received were one knight vest, one helmet, one sword and one shield. I received this in exchange for my review.

What Others Say
The inventory for Walmart hardly has any reviews for Little Adventures costumes, except for two 5-star reviews out of 5 stars for the Tinkerbell and princess costumes. All Little Adventures costumes sold on Amazon have received at least 4.5 stars out of 5 stars.
The Facebook page for Little Adventures receives 4.8 stars out of 5 stars. Overall, most people who buy costumes from Little Adventures are satisfied.
Be sure to enter the Little Adventures giveaway.  Win $50 worth of in store credit. Check out their 2017 catalog.
As thanks to my readers, Little Adventures are offering us a 15% off discount during the period of the giveaway.  Use code sfsd15% at checkout.