The Gadget Grab is described as a universal tablet stand.  A cell phone stand is also included with tablet stand. Both Gadget Grabs have two sticky surfaces.  One side secures it to your desk or table while the other side sticks to your tablet or phone. The grip is strong capable of supporting a tablet and cell phone as advertised. 
Perhaps too strong I exerted myself to remove my cell phone from the Gadget and then from the Gadget from my Formica counter top.  I don't believe it was designed for use in cars but some users have had success while others haven't. The commercial shows the Gadget Grab on a moving mechanical bull. Good for hands-free viewing or usage of your tablet or phone.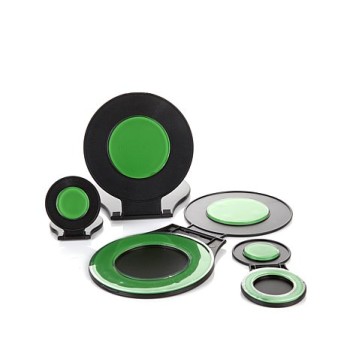 The Gadget Grab would come in handy if, for example, you're working on a report or online class and need a second screen to show your notes or your lecture. This could also come in handy in the kitchen to hold up your device while you read a recipe. Overall, this is a quick and easy way to prop up your phone or tablet.
PROs
Compact. When not in use it folds to a very compact size making it easy to carry in your purse or bag and have it available to prop up your cell or tablet while at the coffee shop or library. No worries about it accidentally opening up either.

No Residue. The Gadget Grab leaves no sticky stuff on the back of your gadgets.

Restore Stickiness. If you feel there's a loss of stickiness , you can run it through a running water and clean with your fingers and let it air dry.

Recharge Easily.

The simple design won't block ports, so you can recharge while using your stand.
CONs
One Angle. There is only one angle to choose from when you are resting your gadget on it.

Surfaces.  Limit use of the Gadget Grab to clean, flat surfaces or you'll end up picking up crumbs, peeling paint, etc.

Too Sticky.  The strength of the sticky surface may make it difficult to remove your gadget.

Loss of Stickiness. The brochure that comes with the Gadget Grabbers states it can lose its stickiness when left in the cold for a prolonged period of time. I'm not sure if this is a permanent reduction in stickiness.

Wobbly When Touched.

Touching your gadget while mounted makes it wobble back and forth, so this may be best for activities that only require you watch the screen instead of interact with it.
Amazon Reviews
Out of 61 customer reviews the Gadget Grab rated 3.8 out of 5 stars: 36% rated 5 stars, 30% rated 4 stars, 13% rated 3 stars, 5% rated 2 stars and 1% rated 1 stars.  I rated it 4 stars. At the official Gadget Grab website for $10 you can now buy one set and get one free.
I received Gadget Grab for free in exchange for an honest and unbiased review.