Most people enter into marriage believing they've found their one and only. The infatuation surrounding pending nuptials can be one of the most beautiful feelings a person ever experiences. Unfortunately, not all marriages last, and this very often leads to individuals who were previously married entering new marriages.
These blended families can be just as loving and supportive as traditional families, so it's undoubtedly a delicate subject at times to bring up prenuptial agreements. However, once a person recognizes the benefits of this type of agreement to a blended family their reluctance may go away.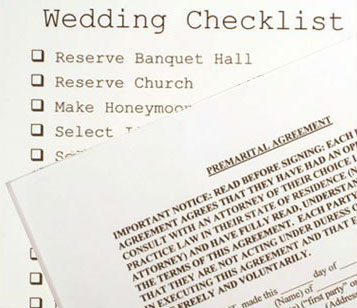 The following are the specific benefits prenuptial agreements can give:
1. Protects Children
One of the most important benefits of these legal agreements is the fact they can protect children. In the event of an untimely death, there's often contention over who will receive what. Unfortunately, this becomes even more difficult in a blended family since an individual may have children from a previous marriage. Signing one of these legal documents before tying the knot, however, can make sure everyone is treated fairly after a person's death.
2. Lower Court Costs
While definitely not the favorite reason to bring up a premarital agreement, it's important to recognize about half of all marriages end in divorce. Those in a blended family should be well aware of this. Since property accrued during a marriage can be contested, it's still essential to hire appropriate legal help, such as Tenn and Tenn, an experienced NH divorce law firm. These legal professionals can help make sure a fair division of property.
It should be noted, though, court costs will be much lower when the couple is smart enough to have these agreements. It will make sure a large amount of property isn't contested, and it can even make sure a person's assets, which may otherwise be unfairly divided, are kept within their family so their children are taken care of.
3. Avoids Joint Liability
A person from a previous marriage likely has already built a life for themselves. In some instances, this includes having a professional career. Sadly, some of these careers can wreak havoc on finances. An individual who could be sued for malpractice or a person who personally guarantees loans, for instance, could suddenly face substantial financial issues. Signing a prenup beforehand, though, will make sure these potentialities don't decimate all the couple's finances.
4. Business Succession Plans
Returning to the fact many formerly married individuals already have a life set up for themselves, a prenuptial agreement can also ensure a business owner's wishes are followed if they're unable to perform their duties. An individual may wish to have their children run the family business.  Without a written agreement specifying this, the company is likely to go to the person's new spouse.
5. Protecting Assets from Debt
When an individual is coming into a marriage having already been married before, it's quite likely he or she has either got important assets or unfortunate debts. This can even include bad credit ratings from a previous divorce. Unfortunately, these debts are often shared immediately upon marriage, and this can put the assets of the other spouse in danger. A prenuptial agreement can actually prevent these assets from being taken due to old debts.
It can be rather intimidating to bring up the possibility of signing a prenuptial agreement, but the aforementioned advantages of one make it obvious they're vital in blended families. These agreements don't necessarily show doubt in a relationship; it's just as easy to look at these agreements as protecting the entire family in the long run. With these benefits in mind, a person should have no reservations about broaching the subject with their future spouse.
The Author
Lisa Coleman shares reasons why considerations for a prenuptial agreement are important, particularly with the high divorce rate in today's society. Without a prenup and when faced with divorce, retaining an experienced lawyer is vital. Tenn and Tenn is an experienced divorce law firm that can help ensure a person's fair division of property and assets when in the midst of ending a marriage within the state of New Hampshire.
Photo Credit: http://www.flickr.com/photos/evanforester/6670037971/