Blended families often face challenges other families don't run into when waiting for the stork to arrive. Older children from previous relationships often feel they are no longer the center of their parents' world because a new sibling with a different parent is being born into the family.
While parents know this is not the case at all, children see the world in a different way. Will they be left out? What will they have to do to fit in? These questions can trouble the hearts of older step children when a new sibling is born.
This can be emotionally draining for the whole family. To help relieve these feelings, here are some suggestions parents can adapt to help everyone adjust.
• Involve The Older Children In The Preparation Process
As you begin to prepare for the new born, make sure you include the older children in the planning process. Have them help pack the hospital bags or have them help pick out the outfit their new sibling will wear home from the hospital.
• Encourage Them To Pick Out Baby Accessories
As you are getting ready, ask for their help in selecting the baby's accessories. They can help you find a play yard similar to the one at http://www.toysrus.com/buy/babies-r-us-exclusives/play-yards/ingenuity-deluxe-washable-play-yard-with-dream-centre-shiloh-60072-12761407. Ask for their opinion about the high chair and the diaper bag you're considering.

Allowing them to make some decisions about the new baby will help them take interest and get excited about the new arrival. Validate them. Their input should be treated with the same relevance and enthusiasm as your own.

• Declare One Day A Baby Free Day
It is easy to assume when you are preparing for the arrival of a new baby this will consume a lot of your time. Make sure you take time at least once a week to dedicate to the older siblings' happiness.
Let the whole day be centered around them, even if it is something as simple as spending the day at the local park together. This dedication to their happiness will make them feel secure in knowing that even with a new baby coming soon, they are still important to you.
The most important thing you can do as a step parent in this situation, however, is talk to the children and allow them to talk to you. Listen to their fears and concerns and show them you understand. Do not belittle their fears, but encourage them to understand the things they fear are not going to happen.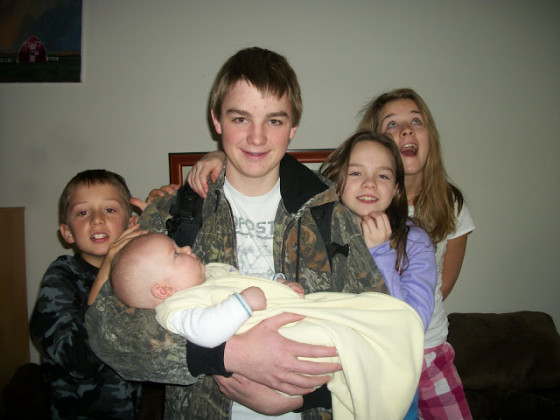 It is always hard on children when a new baby is born. It is a little scarier for children in blended families because they fear rejection. Parents just need to understand this is taking place and address these issues in a kind and compassionate manner. In the end, it will all work out and the arrival of the new baby will be a joyful event for all.
Writer LaGeris Underwood Bell celebrates with each expectant blended family and hopes for safe and happy deliveries for all. She hopes this article offers helpful tips on how to make sure their stepchildren feel secure and loved. LaGeris has contributed several articles to Support for Stepdads please check out some of her earlier posts:

Photo credit: http://www.flickr.com/photos/honzasoukup/8618959097/